The test
This is it, we are there! Eight months after its reveal and two months after having discovered it in exclusive preview on the premises of Microids, the game Asterix & Obelix: Slap them All is finally on sale after a short week of delay following "logistical problems" . Beyond the homage paid to the comic strip (with a last volume released a month ago), this entirely handmade 2D beat'em all crystallizes above all the new ambitions of a rapidly changing Microids. . It is also with the help of the talented Mr Nutz Studio that the French publisher delivers what is undoubtedly his best production ever. A pretty feat.
Two and a half years of development (more or less), such was the time necessary to implement the new adventures of Asterix & Obelix in video games. If the general public has always been used to XXL episodes developed either by Etranges Libellules, or by OSome Studio, or sometimes both jointly, this time, it is the studio Mr Nutz which was mandated to offer their vision of the duo. the most iconic of French comics. For the founders of the studio, Pierre Adane, Philippe Dessoly and Mickaël Pratali, their Asterix & Obélix had to take the form of a beat'em all, a genre highly prized in the 80s / 90s and which was all the rage in theaters. arcade, but also on home consoles. At that time, Konami had marked the minds – and the hearts – of gamers with their Asterix The Arcade Game that many still cherish today as a Madeleine de Proust. If it is not a remake of the latter (although…), Asterix & Obelix: Baffez-les Tous was strongly inspired by it, or at least took it as an example, if only in the choice of its environments (we invite you to make comparisons). But what does it matter in the end, because this Asterix & Obelix: Slap them All takes above all the plot of several comics that we know very well: Asterix among the Bretons, Asterix among the Normans, Asterix in Hispania, Asterix in Corsica , Asterix and Cleopatra, to which are added completely original passages created by Microids and Mr Nutz Studio. During the 50 levels – and the easy 8 hours – necessary to complete the adventure, we will therefore be lulled by the story of these 5 volumes which will show us the country.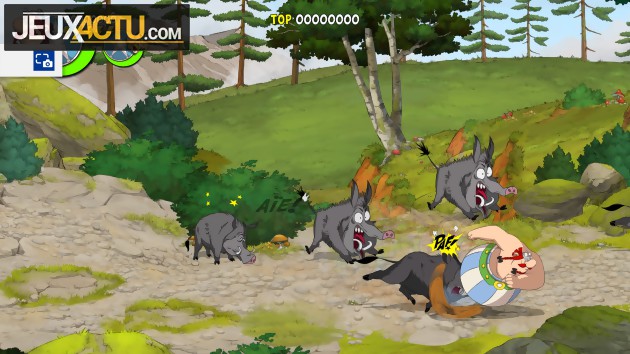 THAT'S BEAUTIFUL FUCKING!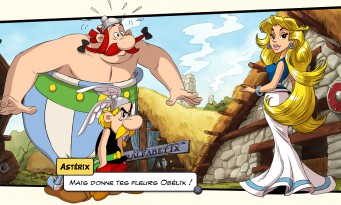 We had already mentioned it during our preview, but we will repeat it very loudly in the final test: Asterix & Obelix: Slap them All! is an unparalleled visual slap. We had already been captivated the first time in the premises of Microids when we came last September, but at home, on our Sony OLED 4K 65-inch screen (yes el famoso AG9), the rendering is even more impressive, especially when the game tightens its plans and offers sprites of almost disproportionate size. By choosing to work everything by hand, with the traditional methods of the time, it is indeed the comic strip that comes to life before our eyes. Not only is it beautiful, but in addition the character design of Philippe Dessoly in no way betrays Uderzo's pencil stroke, who can remain in peace where he is. Whether it is the characters (main and secondary), the environments, the animations, or even the few scenes that advance the story, everything has been done with the greatest care and with surgical fidelity. It's all the more pleasant as the game plays with the different shots, giving a welcome effect of depth. Between the details in the background that come alive and the elements in the beginning that can sometimes blur the view, we are literally immersed in the pages of the comic strip. Clearly, if there is one aspect on which Asterix & Obelix: Slap them All! is intestable, it is good in its graphics, and more generally its technical realization, since the game is also beautiful whatever the platform, without the slightest technical downgrade, not even on Nintendo Switch (the console where multi -support are still technically diminished, let's be honest), which is rare enough to be underlined. Very, very good work to be congratulated.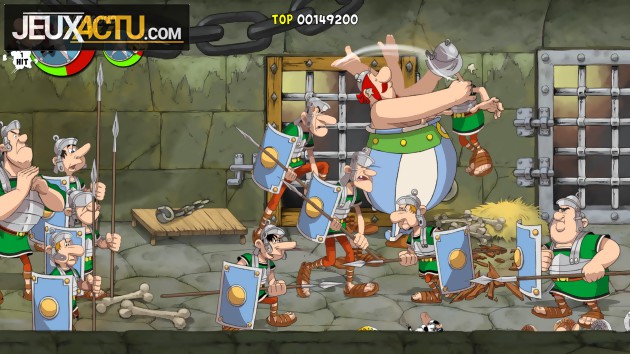 MUSÔ POINT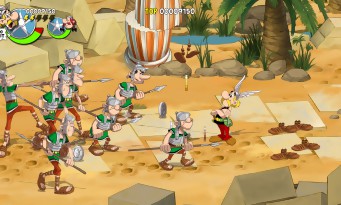 Si Asterix & Obelix: Slap them All! will get everyone to agree visually, what about the gameplay? It is true that the morning spent at Microids two months ago gave us a good overview of the game mechanics, but only on the first levels. Julien "Julo" Hubert, who officiates as producer on the game, had also teased us other elements on which he could not communicate to date, everything was not yet finalized during the preview build. We're not going to tell you about a salad, the title hasn't changed much since the last time, but it wasn't until the final – and complete – version of the game that we realized the subtleties. that the developers had hidden from us. We explain ourselves. In fact, the mechanics of Asterix & Obelix: Slap them All! remain fairly classic. Weak hits with the possibility of chain slaps, stronger attacks but which consume a flash, the gameplay is interesting in that it also has strikes allowing to stun enemies or conversely to one-shot . On paper, nothing really revolutionary, except that in practice, it immediately becomes more interesting, since the substantial marrow of Asterix & Obelix: Slap them All! lies in this ability to handle the massive flow of enemies that flood the screen. It will indeed not be uncommon to be overwhelmed by Roman legionaries, thieves, pirates or other health bags who are only there to prevent you from progressing. If the game goes gradually before launching waves of enemies until they are thirsty, very quickly, we realize that we will have to use all the possibilities offered by the move-set of Asterix and Obelix to s 'get out of it and above all keep your cool.
Weak hits with the possibility of chain slaps, stronger attacks but which consume a flash, the gameplay is interesting in that it also has strikes allowing to stun enemies or conversely to one-shot. On paper, nothing really revolutionary, except that in practice, it immediately becomes more interesting, since the substantial marrow of Asterix & Obelix: Slap them All! lies in this ability to handle the massive flow of enemies that flood the screen.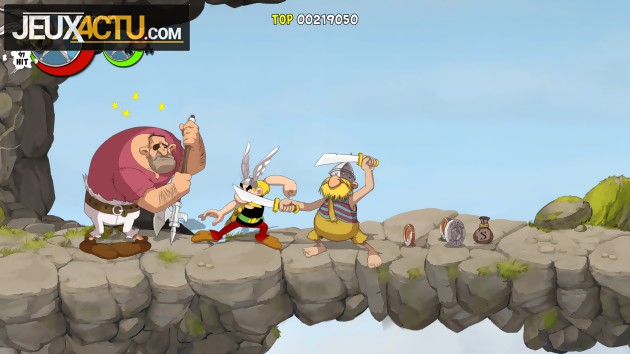 It is not obvious, but Asterix & Obelix: Slap them All! offers a fairly significant challenge, sometimes even a little excessive, to the point of rage like the first haters come. This is where all of the game's strategy comes into play, whether you play it solo or co-op. Because in their game design, Microids and Mr Nutz Studio have decided that the death of a single character leads to the game over, with the obligation to restart the level from the start. A punitive aspect of course, sometimes questionable, especially when you are still angry after having typed 15 failures in a row, but which forces you to think more than average. It is true that this is not usual for the genre, with classic beat'em all relying on the possibility of respawn at any time as long as the number of lives allows it. There, we will have to be a little more on the lookout, better manage the switch of characters when playing alone, or be a little more attentive when playing with a friend passing through the house, and why not him help if he is in trouble. Mutual aid is in any case the sine qua non for progressing with serenity, the game being fairly sparse in life points to be recovered over the levels. Yes, there are a lot of barrels to explode, a lot of coins to collect but apples, ham and roast boars are rare; to the point where you even have to be a bit of a strategist before consuming them.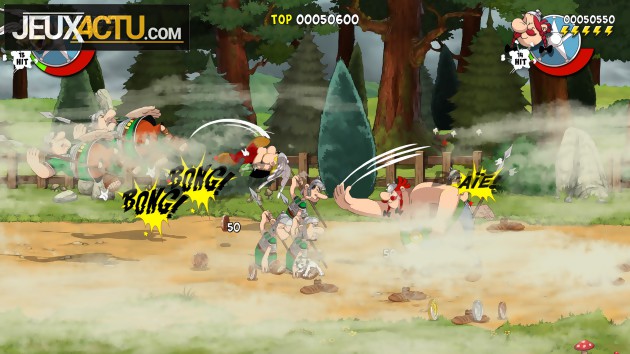 GENERAL PUBLIC, BUT NOT THAT …
Unlike other beat'em all, food items do not disappear after a while, they will even stay on the ground, waiting for your blessing to be consumed. Throwing yourself on it is not necessarily the best idea, and it is sometimes preferable to wait for a more favorable moment to regain a little strength, or rather vital gauge, shall we say. It is not easy to explain on paper, but once in play, with this mass of enemies (sometimes mind-blowing), this tough challenge and the lack of life points to easily recover, it allows you to reconsider things and especially its gameplay. But once we finally see through the matrix, Asterix & Obelix: Slap them All! reveals its true essence. We indeed take great pleasure in managing this mass of enemies, immediately stunning those who stick to the bottom of the screen to swing spears, by getting rid of basic infantry by one-shooting them with an uppercut ( this kiffe to fly them in clusters), thus allowing to manage the strongest and the toughest by playing with the combos.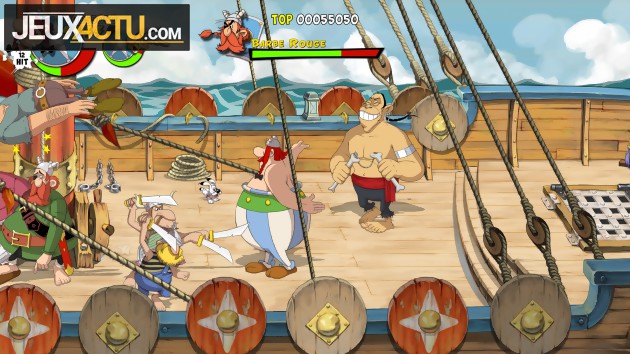 All is not perfect in the gameplay of Asterix & Obelix: Slap them All !, far from it. For example, we would have liked the character of Asterix to benefit from the same treatment as Obelix, which certainly benefits greatly from his stature, but above all gives the feeling of being more powerful than Asterix. Not only does its hitbox area allow it to inflict more damage and hit more enemies at once, but our menhirs collector especially benefit from a greater range of hits than that of Asterix. This can be seen in the variety of attacks available when you catch an enemy. When Obelix can slap an enemy, slap them to the ground, or send them to the end of the screen, Asterix has to be content with spinning them around. So of course, this allows you to make room around you and take advantage of moments of calm, but we would have liked him to be able to enjoy other additional attacks. Likewise, in 2021, it would have been nice to integrate furies which are sorely lacking in the game, a feature yet implemented in the Konami game where Asterix and Obelix could become invincible a short time after having drunk the magic potion in addition, or have their nose kissed by Falbala. It will be for a possible sequel (or a patch, let's be crazy) and so welcome when you know that the game can be difficult during certain passages.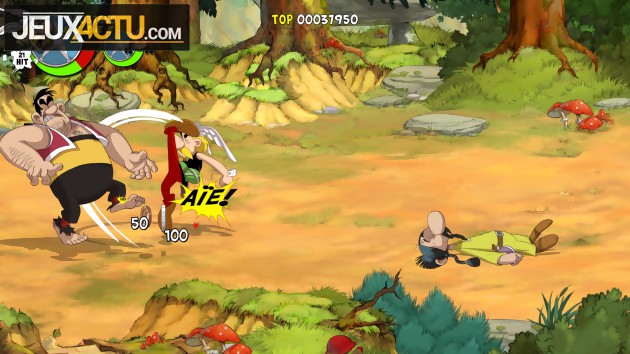 WE WOULD LIKE TO …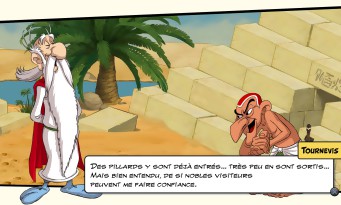 Here, since we are dealing with grievances, big disappointment concerning the bosses. If they are not rare, they are sorely lacking in finishing to be considered as end-of-level enemies. Not only do the three-quarters have no difficulty in getting rid of them (some are eliminated in a few combos), but in addition, they literally have no pattern that deserves to be considered as bosses. So yes, Redbeard gives circular sword blows to the relief, but that's it. It is all the more regrettable that Microids and Mr Nutz Studio do not hesitate to make them come back several times in a row during the adventure, even if it means minimizing their impact in the game. Asterix & Obelix: Slap them All! Besides, it has a big flaw: this feeling of recycling which could have been minimized by certain choices of game design, or of rhythm. Yes, the game abuses certain settings that come up too often. We think about the level of the pirate ship that we cross in the game a good ten times, with okay a few variations (by day, at dusk, with rough seas), but in fact, we notice the subterfuge . Likewise, it is difficult not to point the finger at the lack of bestiary among the Normans who boil down to one and the same enemy: the big viking. Finally, and we will end with that to let people know about our dissatisfaction, the internship bonuses are ultimately lacking in interest. So yes, two in co-op, it's great fun to compete in the sprint on the beach, but the wild boar hunts bring absolutely nothing. It suffices to touch the animals for them to freeze in place while the character runs automatically. Even obstacles break without the slightest effort, when it would have been better to integrate a punitive game over to give more consistency.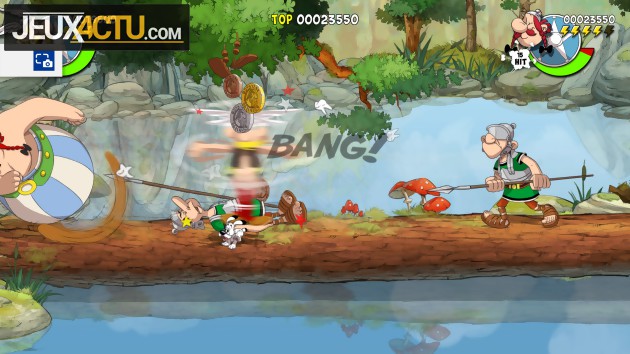 To overcome these shortcomings, Asterix & Obelix: Slap them All! has had less of the chic of offering a long lifespan for the genre. No less than 50 levels to go, divided into 6 acts (and 5 different comics), with a sometimes very tough challenge, as we have already said. Once you understand the subtleties of the gameplay, it takes between 7 and 8 busy hours to reach the end of the adventure and thus unlock the Free mode, which allows access to all levels independently. Because once the game is over, the experience does not end there, since the hi-score component comes into play, with medals to collect. It's pretty light, we're not going to lie to each other and unless you try the speedrun and prove the power of your skill in video, it won't be enough for the replay value to be interesting in the long term. Especially if we compare what the competition is doing, Streets of Rage 4 not to mention it. After that, nothing prevents Microids and Mr Nutz Studio from adding post-launch content, which is perhaps already the case. Fingers crossed.