On the occasion of the release of "The Contract", a new update for GTA Online which offers a complete scripted mission in which we celebrate the return of Franklin Clinton, alongside Dr Dre, we have the opportunity to discuss with actor Shawn Fonteno who therefore resumes his role after 8 years of absence. It is in video, by distance, that we were able to ask him our questions, in particular about his experience as a performer (this is the term he uses), his days of filming with the rapper Dr Dre and his report. with the character of Franklin. Since we are an all-medium medium, this exclusive interview is available on screen as well as on video. Please enjoy.
Maxime Chao: You resume your role of Franklin, almost 10 years after the single player campaign of GTA 5, how was the reunion with your character?
Shawn Fonteno: I was nervous at the start because I didn't know how it was all going to turn out. Going back 8/9 years later, it was not easy and then when I started to see Franklin again, I saw myself today. He is a little older, he acquired a certain wisdom, he became a business owner … And once I saw how it was going to be done, I knew how it was going to happen … It feels good to be back.
Was it hard to get back into your character, or did you remember everything you had done for the past 10 years?
Just before going back to work for this new mission "The Contract", I studied as much as I could my old cutscenes, just to remember what I did, get back in the bath, and once I had caught the thing, I realized it was me. I've never played in any other way, it's always been me. I just needed to get my tone back. You know, sometimes it takes a little while before it picks up again, also because I left the role a long time ago. And above all, I have not had other roles in the meantime that would have allowed me to keep a certain habit. Reading dialogue and that sort of thing you know. But the director and all the people who worked on it, the team, they did everything they could to make things pleasant and for me to come right back into the role.
So what does that mean exactly? That Franklin, the character of Franklin, is 100% Shawn Fonteno?
Shawn, it's Franklin yes, I don't know how to tell you otherwise. I find myself in a lot of things that Franklin does in the game. Like I said, I gave him my person. A lot of people tell us that we are actors. I prefer to say that we are performers, we are more into performance capture so … Because it's a little more than playing a role, we really have to perform. I don't know if you've studied performance capture work a bit, but you have to perform. You can be a very good actor and … I've seen great actors come in, put themselves in place and not know what to do, or how to position themselves … Because they are not used to it. .. You have to perform and learn to perform.
You told me earlier that you were nervous about taking over the role of Franklin. But how's it also to come back alone, not to have Ned Luke and Steven Ogg by your side. Wasn't there a feeling of emptiness somewhere?
Yes, it's true. I used to work with these guys and they became really good friends, but I still have Lamar with me man … And if Lamar is by my side, I'm good man. You know, him and me, it's a good cocktail. And everything went really well.
It seems to me that you are still very close to Ned Luke and Steven Ogg. You kept in touch with them …
Yes, we are talking on the phone. Me and Ned call each other more often than Steven. But me and Steven, we keep in touch because we do the comics and we make appearances together so, we all stayed in touch,
We have seen that physically, Franklin has changed, but psychologically, what is his state of mind today? More sure of himself I imagine?
He's just the boss man … that's how I see him, he's the boss. He takes risks for his friends and tries to solve their problems man. And he learned a lot you know … When you think about it … I think he learned a lot alongside the character of Michael, the character of Lester and the character of Trevor, to become the boss that he is. today. Because you have to remember that he improved with his guys, because he came from the city, from the neighborhoods. And Michael took him under his wing, taught him a lot of things, and Lester taught him how to be sharp, how to use a computer, how to use a smartphone and how to tackle a mission. You have to see the result, it's crazy, it's really an experience to live man. You will get stuck with your console, you won't want to do anything else, believe me.
And what was your reaction when Rockstar Games called you back to reprise the role of Franklin? How did you react ?
I was humble that day you know. Because I think the day they called me, I was doing something else, I don't know what exactly, but I was in my head on something and I was not in the right mood, but when I got that call it came at the right time. It cleared my mind and I was able to forget all the bad things and make this headache go away. It's just fun man, being back … I'm here. I'm fucking back!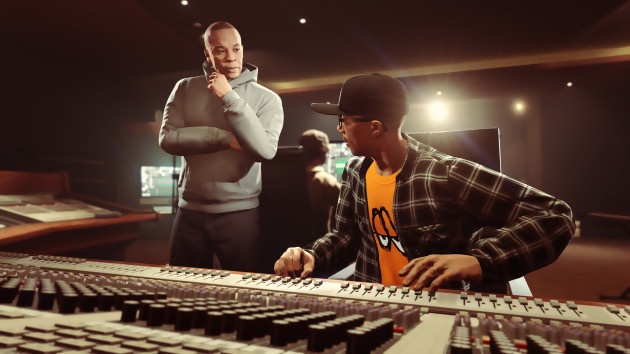 You share the poster with Dr Dre in the game, how did the collaboration with him go? Can you tell us about the shoot?
Yes, we worked together, both remotely and physically. And Rockstar … They got us right, man. Invite Dr Dre, what the fuck … Dr Dre? Few people come close to him at the moment, the guy is coming back from his retirement, music, acting, just being involved in whatever project it is. This guy moved on. He is in the Hall of Fame, he is pissed off. Getting him out of retirement, it was amazing to hear that already for me and I was honored, so honored to be with him for "The Contract". But I repeat it again, wait to see him brother, wait to see …
Did you give him any tips for the game, for acting during the performance capture?
No, I don't do that myself. I don't allow myself to do this stuff to another actor or performer when he's in a performance capture suit. I leave this to the director or the team, because it's their job and they are good at it. I will be unable to say what works for me. These are my combinations and my little tips, so the team, the director, they work on that and they do that well you know …
A little less than a year ago, you remade IRL a mythical sequence of GTA 5 with Slink Johnson who plays Lamar in the game, can you tell us about this sequence which is a big success on YouTube?
I took a look at my Instagram account one day and it had all these notifications and I saw this image where Kermit the frog playing the character of Lamar. I watched the video and I was like "oh my god! It was beyond us, with all these views, it was huge, it was trendy. And then suddenly everything appeared, Mickey Mouse, Donald Duck, Darth Vader, everyone was starting to troll me, you know what I mean … And then Slink and I, we said to each other that we had to do something together, it's been years, but we never had time to settle down. And we finally chose this moment to meet again, to do it and then, it became trendy, so much so that we said to ourselves that we had to do it again, And then, it arranged the things and everyone was happy to see us together again.
I imagine your life has changed since the release of GTA 5, is everyone calling you Franklin on the street?
Really man, this is madness. It's such a great feeling … the only thing that pisses me off is how all these people get my phone number. I get calls from everyone and I'm like, who's all these people calling me Franklin, Franklin. But how the hell did all these people get my number? But everyone recognizes me, and it's really heartwarming. I'm happy, so grateful to have been a part of that legacy dude, that big guy thing. No, but Rockstar what! You can't get bigger than Rockstar. I'm at the point where I wondered if there weren't some aliens at Rockstar controlling all of this, it's so huge. This is really big man …