Metroidvania in the full sense of the word. Vigil Review: The Longest Night. 4 hours ago | Review | Computer and mobile games
An unusual metroidvania that every Castlevania, Bloodstained and Valdis Story lover should see.
Initially, the term Metroidvania denoted games in which the elements of Super Metroid and Castlevania SOTN coexisted, namely, the whole world of the game, which opens through the acquisition of new game abilities (double jump, tackle, etc.) and the role-playing system, consisting of pumping the hero on enemies, many items of equipment and various statistics (strength, dexterity, luck, etc.).
However, the vast majority of games released under this genre inherited exclusively the characteristics of the Metroid. Even such a metroidvanic flagship as Hollow Knight from ~ vania has perhaps a gothic design and a focus on close combat rather than shooting.
This situation became especially acute with the release of the long-awaited and long-suffering Bloodstained, which finally reminded that Vania is just about equipment, loot, pumping and stats – elements that stimulate the study of the game world and search for secrets much stronger than just linear health bar upgrade.
And in October 2020, Vigil: The Longest Night comes out, in which Vania is even more than Metroid.
Plot
In the world of the game, the vigilant is such an analogue of the witcher, a person from childhood subjected to severe training and all kinds of magical manipulations, so that as an adult he would hunt monsters and protect civilians from evil.
Unlike witchers, marines can be women (or just women?). We are playing just for such a sentinel Leila, who, after completing the training, returns to her native village. To avoid spoilers, I will only say that chthonic horror begins to happen further, inspired by the Bloodbourne approach to Lovecraft's nightmares, rather than something from The Witcher. The game is very dark, cruel and will not stand on ceremony with your feelings. Large and deliberately mysterious lore attached to every item in the game available. Where is today without it.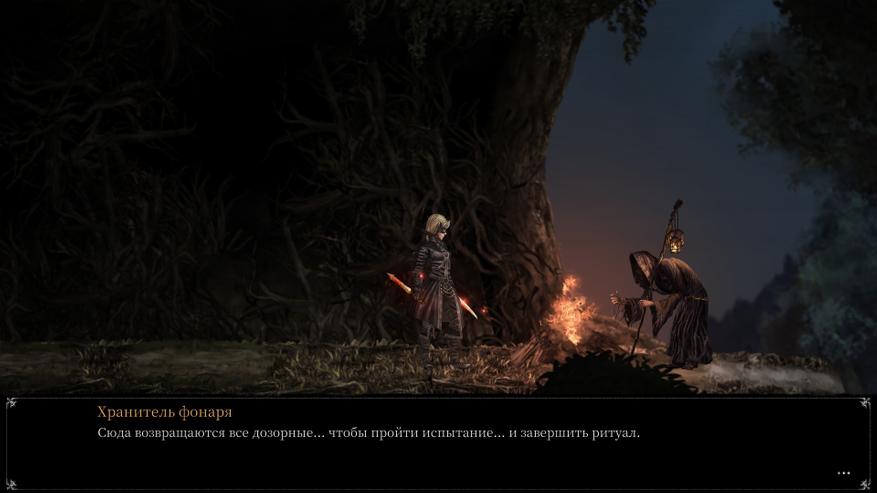 Gameplay
Metroidvania in the fullest sense of the word. Before you is a huge two-dimensional world, in order to fully explore which you need to find new abilities and skills. But as a reward for studying, you will receive not only consumables, like throwing knives and healers, but also items of equipment: weapons, rings, masks, cloaks, as well as spells, both combat and protective. What is especially noteworthy is that all items of equipment (except for rings) are fully displayed on the heroine's model. You can undress her, you can dress her in a bright outfit, or you can put her in armor. Of course, equipment affects not only the appearance, but also the characteristics of Layla.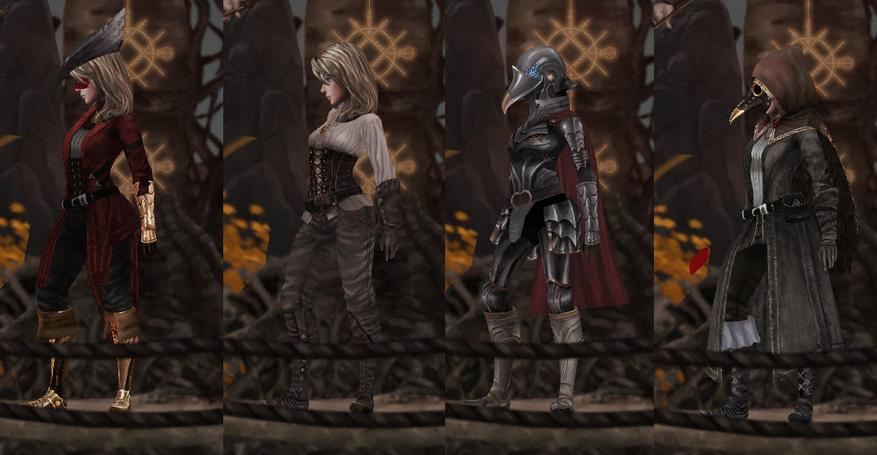 Combat system
The battles are reminiscent of a hybrid of combat systems from the games Vanillaware (Odin's Sphere, Dragon's Crown), Salt and Sanctuary and Arcus Odyssey. Combo attacks, parries, all kinds of maneuvers and acrobatic special techniques are available to us. With the proper skill, you can also fill combos in the air, as in DMC and similar games. All this is tied to the stamina fashionable today, and if you spend too much of it, the heroine will have to stop to catch her breath and open up to attack. This is where the type of armor you put on Leila plays a major role. In plate armor, stamina flies away in a couple of combos, and it recovers for a good half-second (in this game it is long). And in a light leather corset, you can swing your weapon almost as much as you like.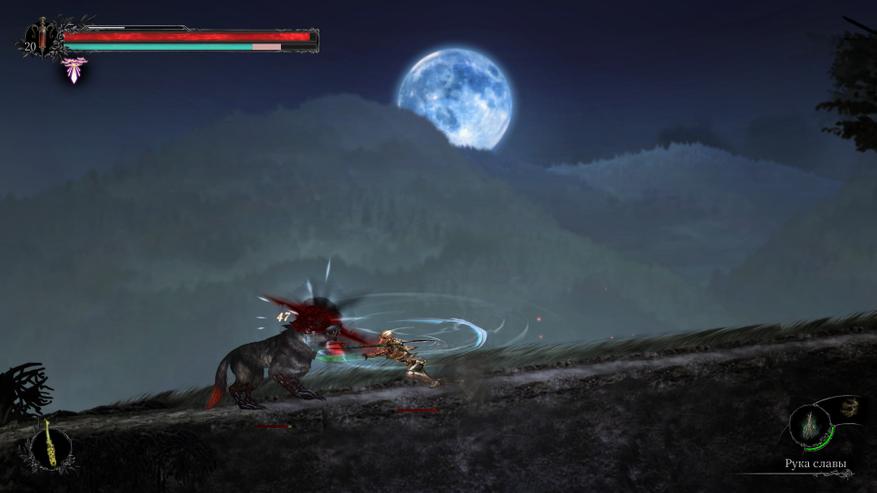 Weapon
Its 4 types. Swords, twin blades, axes, and ranged weapons (bows and slings). It seems to be not a lot, but despite the fact that we have here almost two-dimensional Devil May Cry, and each category of a good size has a list of movements and special attacks, quite a decent arsenal. And in each category, you can find many different copies. For sword lovers, there are katanas, rapiers, classic straight swords, instruments of torture, and ritual blades. There is even a living sword that feeds on the blood of enemies and gradually increases damage. In other categories, there is no less variety. Reaper's scythe is available if found. Some instances have special attacks performed by entering a certain combination, like in Bloodstained, only these attacks cannot be untied from the weapon.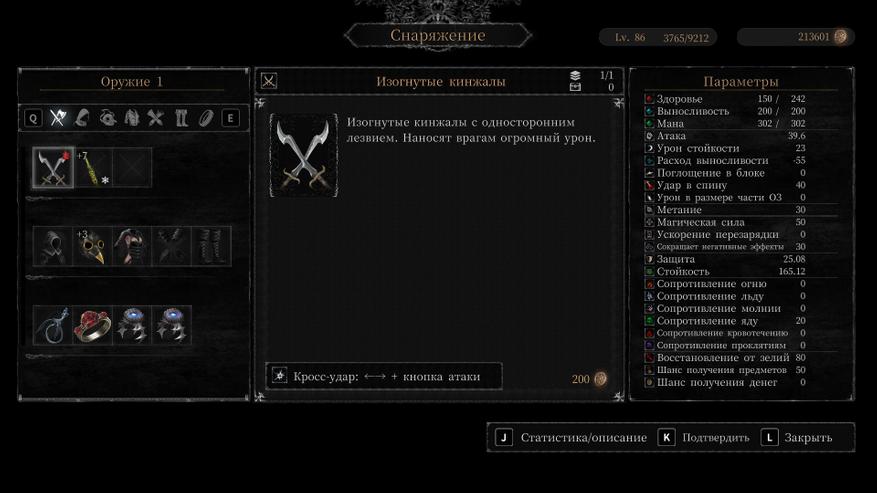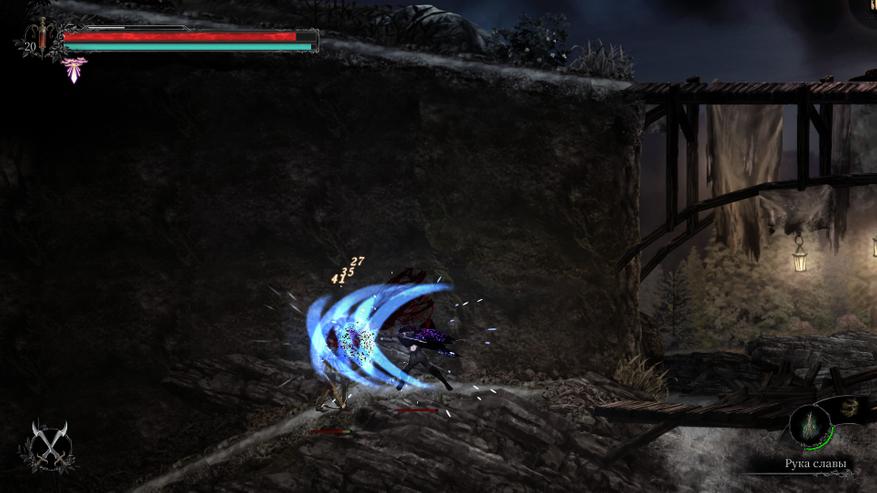 Pumping
There are 5 skill trees. One per weapon category, and one in common, with bonuses to health, luck, and the like. In addition to boring +% to characteristics, special attacks and additional hits for combos are studied here. In the first playthrough, I was able to almost completely pump the tree of general skills and twin blades. I didn't have to farm or grind on purpose. In "New Game +" additional pumping of stats opens directly, ie. in theory, the game can swing almost endlessly.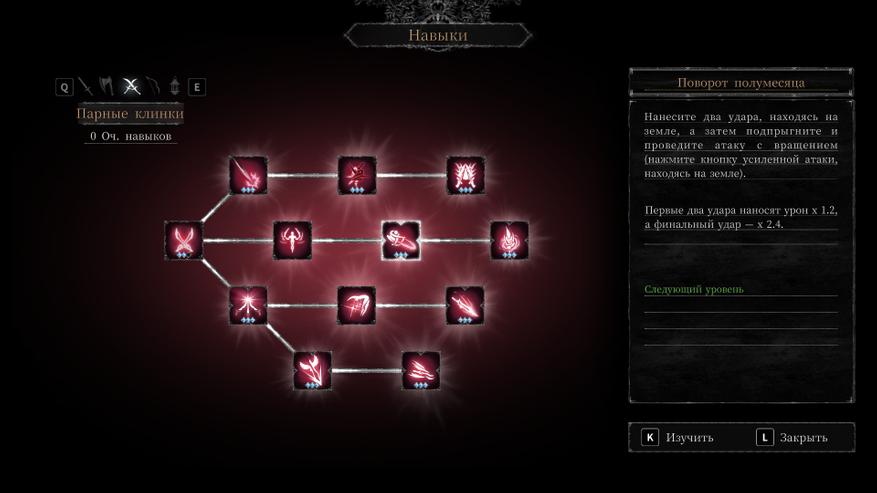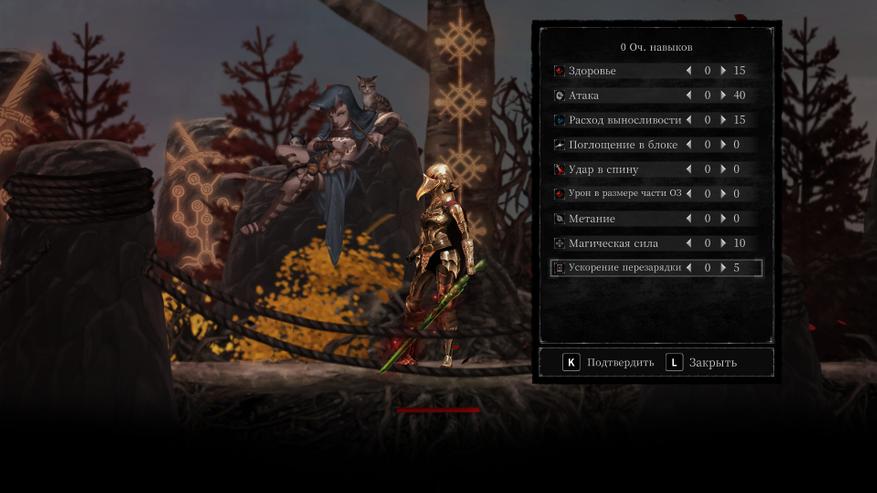 Magic and consumables
The mana bar is located on the spell icon, so it's easy to miss at first. Spells are used in the same way as consumables. Mana regenerates quite quickly, almost like stamina, but each spell has its own cooldown. And if the "serpentine fury" can be spammed until the mana runs out, then the "hand of flame" can be used only once every few seconds. The spells themselves are not so many, but they are different. So there is no self-repeat like 6 identical fireballs of different colors. Each spell has its own niche. Besides the hand of flame, it is suitable for all occasions.
With consumables, everything is intuitively clear – antidotes, throwing knives, bombs, that's all. The only thing worth noting is that some walls can be blown up by bombs, and they don't always stand out against the background of normal walls. So when looking for secrets, stock up on explosives.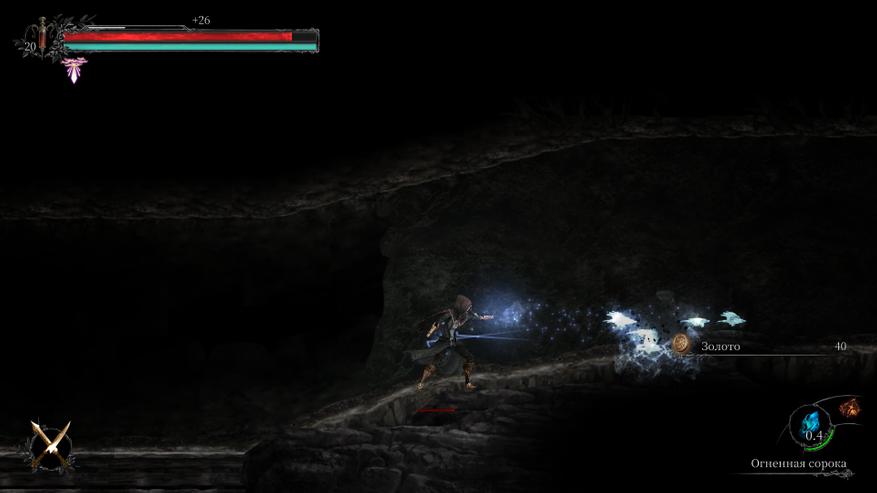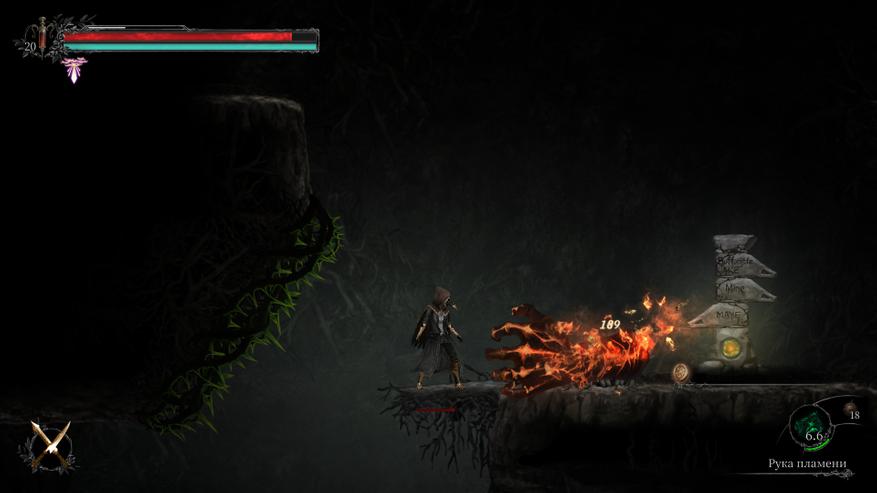 Balance
He's gone. The game is very easy. The game is very easy to replay and destroy. So if you want challenge and hardcore, you have to limit yourself. Same as Bloodstained or Castlevania SOTN. For beginners, I advise you to start right away on hard, especially if you are a Hollow Knight and Dead Cells veteran. After them, Vigil is a resort type sanatorium. However, there are serious moments in the game, especially at the beginning, when you do not have all the skills, spells and good uniforms.
Quests
The game has a lot of characters who will ask you to do something. Starting with the banal extermination of rebellious skeletons in the cemetery, ending with a large-scale (no) operation to rescue miners from a littered mine. Some quests can be completed in different ways. Most quests can be failed, and your journal will display a bold red cross to remind you of your incompetence. As a reward for quests, in addition to money, you can get unique items – rings, weapons, spells. So there really is an incentive to fulfill them.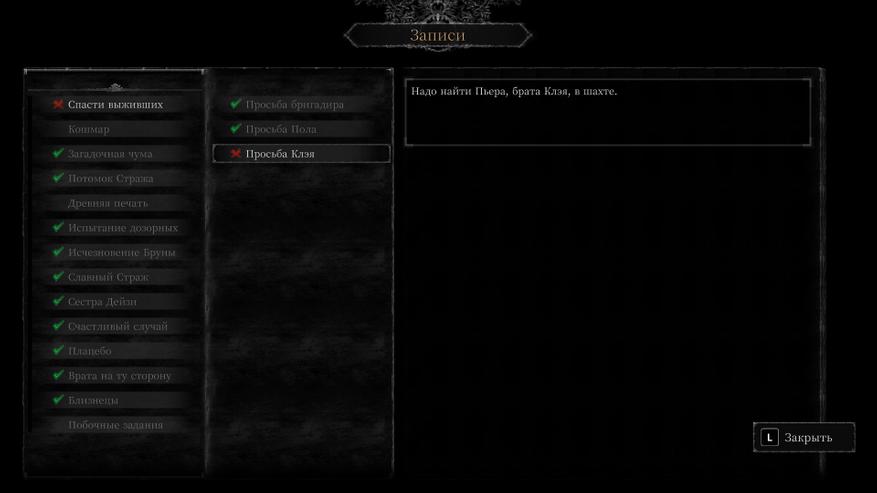 Graphic arts
Developers skillfully combine 3D models with 2D sprites to create a holistic and brutally beautiful picture of the world. The visual style is reminiscent of the work of Ivan Bilibin, although on the game page, the developers point to the Chinese art of jianzhi – cutting paper patterns – as inspiration. In any case, lovers of scary fairy tales and horrible monsters will have something to see here. No anime and mimicry. The picture is entirely consistent with the story.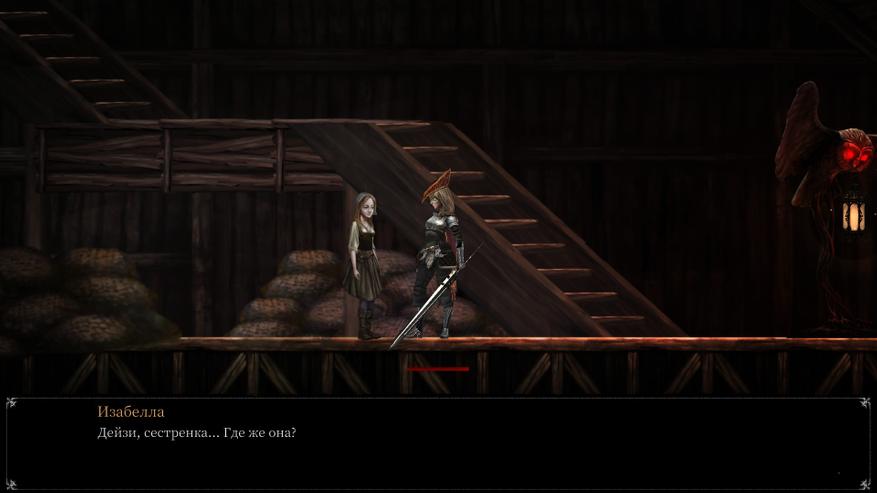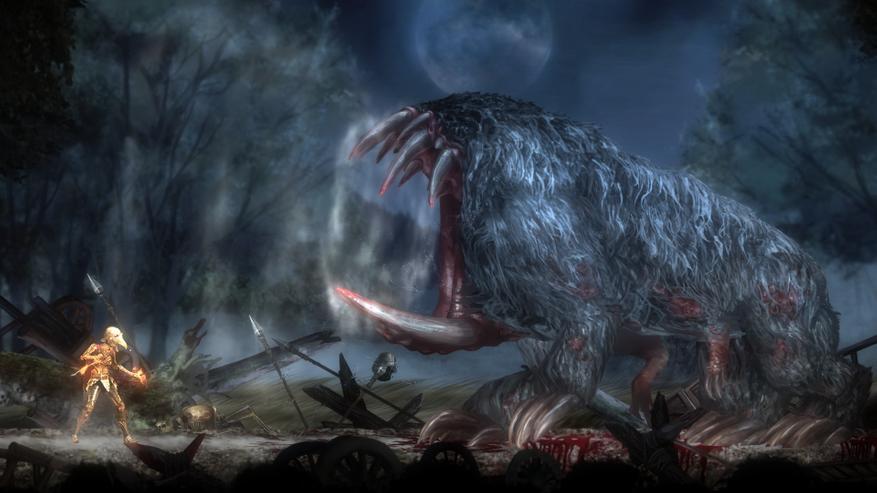 Music
But the music for the game does not really die. It's bright, melodic and as if it was written for the pretentious and theatrical Bloodstained, rather than the dark and cruel Vigil. Although if you listen to it apart from the game, you will get very beautiful gothic rock music with a touch of some Norwegian ambient.
Problems
This is an indie game, of course it has a lot of problems and shortcomings. In addition to the aforementioned lack of difficulty, the game has bugs (the character did not appear where it should have been, as a result of which I failed the quest, on NG + he spawned as it should), problems with the map (the secret rooms that you find are not displayed in any way on map, good luck remembering all the places where you were), problems with localization (the suit is called a coat, a corset, an armor, etc.). The product clearly lacks sophistication and testing by testers. There are also points of no return that automatically fail all unfinished quests without warning and without a way back, except for loading. Without spoilers, it is impossible to know about them, which is very dramatic for the game.
The developers have promised to fix this in an upcoming major update. Actually, they also promised to fix all the above problems. We are waiting, we hope, we believe.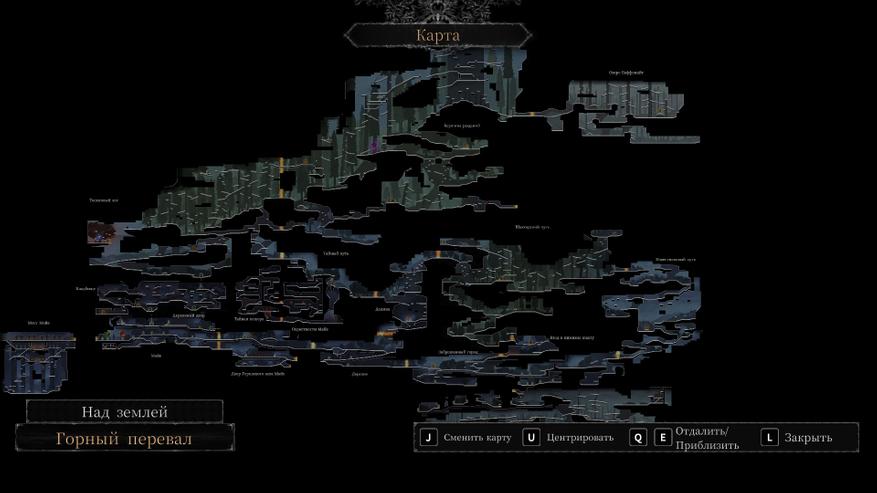 Conclusion
Without fanfare, marketing or reviews from big bloggers, one of the best games in the genre came out. More precisely, one of the few games in a specific genre. Not a metroid-like like Hollow Knight, Ori or Blasphemous, but a full-fledged metroid vania like Bloodstained, SOTN or Valdis Story, with a big and interesting role-playing component.
PS At the time of this writing, the developers are launching a beta version of a large-scale update, where they not only promise to clean up bugs and fix flaws, but also add a lot of new content to the game, in particular items of equipment and weapons. So the player can expect a project that is licked much better than I painted.