Known as well by comic book fans as by cinema or video game enthusiasts, Scott Pilgrim had his heyday in 2010. This year was indeed that of the end of the comic series, of the release on the big screen of the movie Scott Pilgrim vs. The World, and the arrival of the eponymous video game adaptation on PS3 and Xbox 360. To celebrate its ten years (and even a little more), the latter returns to us today on all current platforms in a "Complete Edition "a little lazy, but not unpleasant.
The game takes the scenario of the comic book and the films, and therefore asks Scott Pilgrim to go smash the face to the seven former boyfriends of Ramona Flowers, with whom he fell in love. This is the perfect excuse for a little beat'em up, each of the seven worlds crossed naturally culminating in a boss fight. The world of Canadian comics is well respected, the sets even going so far as to take over some brands that actually exist in Toronto. This re-release of the game prides itself on being complete because it includes the two downloadable contents released in 2010 and each bringing a new playable character (Knives Chau and Wallace Wells). Knowing that Scott Pilgrim, Ramona Flowers, Kim Pine and Stephen Stills always answer the call, and that it is also possible to unlock Nega Scott, a total of seven different characters become playable. Each of them has its own progression in experience, and fans of the most hardcore license will therefore be able to complete the adventure several times. Moreover if the game seems extremely difficult at first glance, it is precisely because of the elements of "light RPG" that it integrates.
To survive beyond the first level, it is imperative to advance the hero you have chosen. The increase in experience allows in particular to unlock additional combos, while the shops placed on the side of the road provide useful items. However, it is very unfortunate that the effect of the various snacks, meals and accessories available in the shops is indicated after the purchase and not before. Some restore life, others gain experience, and still others improve general stats: defense, strength, speed and willpower. This last section corresponds to the notch points, useful for triggering a super attack or calling an ally for help for a few seconds.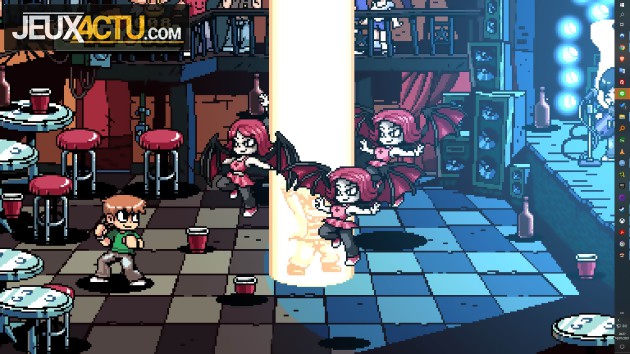 AND YOU TAPES, TAPES, TAPES …
If it is not as flexible and satisfying as that of a Streets of Rage 4 for example, the combat system remains generally pleasant. Quick attack and powerful attack form the basic foundation, to which are added combos and interaction with the scenery. Many objects present in the environments can indeed serve as weapons. Once picked up, we can hit enemies with or throw them at them in order to make them respect social distancing. Note that each defeated fighter drops a few coins that we will take great care to collect, just to be able to buy as many items as possible in the shops. All these mechanics work quite well but it is especially in co-op that the game really reveals its potential. Locally or online, it is possible to form a team of four heroes. This not only makes it easier to fight, perform synchronized super attacks, and revive each other, but it also makes it possible to lend money to a teammate, grant them health, and even steal some from him! Another advantage: playing with several people avoids having to "grind" too much.
In addition to the main adventure, the game offers four additional modes called Survival horror (we face waves of zombies), Boss extermination (where you have to beat all the bosses in a row as quickly as possible), Battle royale ( a four-player free-for-all in a wrestling ring) and Prisoner Ball (where blows can only be given and received via a ball). These small gameplay variations are good to take but make no mistake, they were already present in the original game! This 2020 version does not alter the 2010 version in any way, whether in terms of content, graphics or soundtrack. We find not only the big vintage pixels but also some awkwardness, like this unbalanced sound mix which drowns the sound effects under the music. A small additional modernization effort would have been welcome.