Valve Statistics for 2020 4 hours ago | News | Computer and mobile games
Valve has released statistics for the year that cover a lot of facts about what people have been doing on Steam, and some of the numbers are pretty surprising.
If you look at the statistics for 2018 and 2019, you can see that Steam is growing well. In 2018, there were 90 million monthly active users, in 2019 there were 95 million monthly active users, and in 2020 the number of active users increased dramatically to 120 million. That's a pretty big jump for one year, probably due to COVID-19.
To get a good idea of what is happening with Linux as a gaming platform, we take the share of Linux users on Steam in December 2020, according to a survey of Steam hardware (0.78%), we get about 939,120 active Linux users per month. Almost 1 million!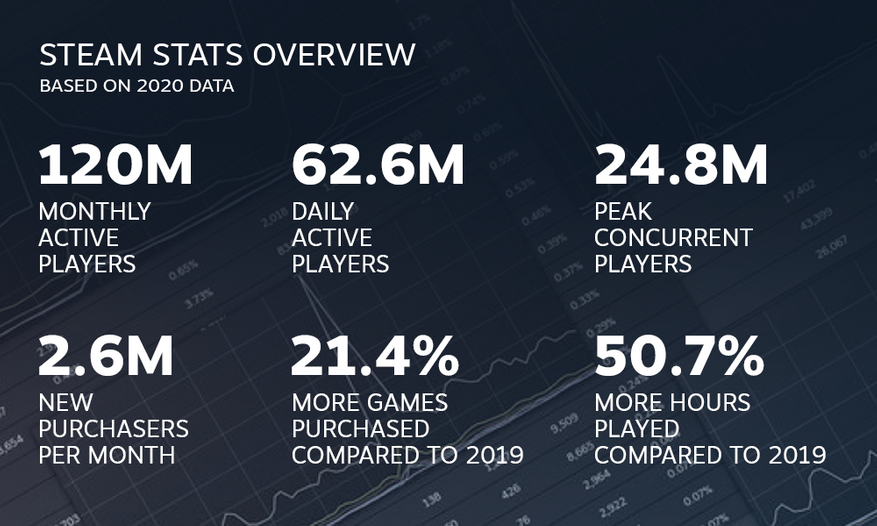 Is this how Linux grows? Well, obviously, yes, in general, but not so dramatically – rather a slow and steady build-up. If we take the 2018 numbers of 90 million, with a Linux share in December 2018 of 0.82%, that would be 738,000. So, between December 18 and December 20, about 201,120 users were added. Of course, none of this is accurate, we are making assumptions based on the share Valve reports in their polls.
Linux and Steam Play Proton were also mentioned.
During 2020, work continued on Steam Play and the Proton extension, which is a way to run Windows games on Linux without rewriting the game code. We released Proton 5, which supports many new games, improved performance, and introduced support for DX12 and EA Origin games on Steam. For a complete list of changes, see our changelog.

We've also seen an increase in the number of developers turning to Valve to early test Proton during game development and to fix Proton-related issues after release. As a result, exciting new releases such as DEATH STRANDING, Horizon: Zero Dawn and Cyberpunk 2077 have been released this year, and can be played on Linux immediately after release or shortly after.
Valve has really gone to great lengths to support Linux and Proton, as well as support developers to work on Linux, from GPU drivers to the new container runtime. There is a lot going on in Linux when it comes to gaming.
Looking into the future of Linux, Valve has made clear its intention to continue to support Linux, not just what has already been mentioned. They said they were "creating new ways for potential users to immerse themselves in Linux games and experience these improvements," which sounds pretty exciting.
By 2020, the Steam store has also expanded slightly with features such as the Points Store, text and chat filtering systems for both Steam Community Zones and developers who can use their games, a news hub, subscription support, and more.
VR seems to be doing pretty well, too: by 2020, Valve will see 1.7 million SteamVR users for the first time. Valve is also regularly releasing updates to SteamVR, and it is steadily becoming more stable. On the hardware side, they saw a 66.6% increase in gamepad usage over 2019, which shows developers that well-tested gamepad support can be very important.
All in all, a really important year for Valve and Steam. You can see their full recording here with more details.
Source : Valve's review of 2020 shows off pretty big numbers – 120 million monthly active users